Indignados start epic march to Brussels #marchabruselas #spanishrevolution #europeanrevolution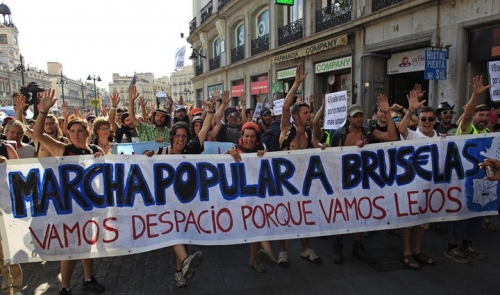 Protesters walk to the heart of Europe to rally support and collect proposals in preparation of a major European-wide rally on October 15th.
"Vamos despacio porque vamos lejos" — we're going slow because we're going far. With that slogan, a few hundred indignados left Puerta del Sol yesterday afternoon to embark upon an epic 1,000 mile march to the heart of Europe.The march is a continuation of the
marchas populares indignadas
which converged upon Madrid this weekend after departing from dozens of cities all over Spain. The marches were intended to protest against the handling of Spain's economic crisis and the lack of real democracy at the heart of Spanish institutions.
The march to Brussels is meant to take that protest to a whole new level — to the level of the European Union. After all, as we argued in a well-read article a while ago, we are in desperate need of a genuinely European revolution:
… if the 'real democracy now' movement is to move beyond mere indignationand grow into a movement with truly revolutionary potential, it will have to come up with a coherent system's critique and a constructive alternative. This alternative will have be built on the concerns of the grassroots, but cannot stay limited to it. If the Spanish and Greek revolutions are to succeed, the fight will have to be taken to Brussels.
After all, Brussels (and Frankfurt) is were the most relevant economic decisions are actually taken, and Brussels as a symbolic venue is in many ways synonymous with the faceless bureaucracy and expert technocracy that informs Europe's gaping democratic deficit.
The march to Brussels is meant to raise these issues in cities and villages on the way, mobilizing support and gathering proposals and suggestions. The marchers are scheduled to arrive in Brussels on September 17th, where they will be joined by indignants from all over Europe for a major demonstration as part of a European-wide day of action.
Then, starting on October 8, the 15-M movement will hold a week-long Social Forum in Brussels. This week of discussion and organization will be closed off with a major demonstration on October 15th, as part of a day of global action.
According to a report by the BBC:
[The marchers] say they are marching because they are fed up with the way the economic crisis is playing out in Europe, with spending cuts, job losses, and privatisations, while those they blame for the recession remain unaffected.
If you want to stay updated on the latest developments surrounding the march to Brussels, subscribe to the march's Facebook group and keep checking back on ROAR for the most important news. Similar marches will be held from various other countries (for an overview, check this blog).
>> Originally published by our friends at ROARMAG.org